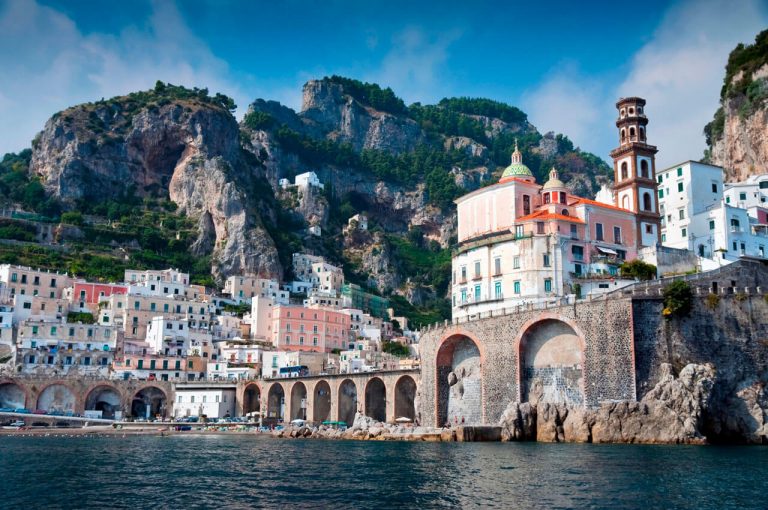 The landscape is characterized by a combination of sea and mountains, full of coves and bays, often accessible only by sea as the beautiful cave of the Emerald and the Fiord of Furore. The land is steep and heavily in some places falls to the sea with strong slopes, overhangs and steep cliffs, knowing at some points, between Positano and Vietri sul Mare, areas where nature is almost completely untouched. The "gardens" terraced for the cultivation of citrus fruits constitute the unforgettable feature of this area. The lemons, which hang heavy from the trees of the coast, plant in terraces, are of a quality so sweet, a little taste of agra and round, which is called "bread". Amalfi is a place where the yellow of the lemons and the broom is paired with the heavenly sea, flavors and colors of Mediterranean cuisine, the sounds of the Neapolitan tradition and renowned hospitality of the people. Amalfi must live it to know it, but live in its gorges, along the alleys, up the stairs, but you discover it mainly because it has always something new to show.
Rent one of our fantastic yachts to go to Amalfi in the Amalfi Coast |
Welcome Charter Yacht Liguria
Contact us to book your next trip to Amalfi with one of our yachts.
You will have available our entire fleet that will make you visit the most beautiful landscapes of the nearby coasts.
What are you waiting for?
Rent a yacth with Welcome Charter to discover these fantastic landscapes!
Rent a boat to go to Amalfi